The Apple Silicon Mac Pro came two-and-a-half years after the transition from Intel began, but it looks like the company just did it to say "it's moved."
The Apple Silicon Mac Pro still looks identical to Intel's.
Well, it's been a few days since the omnibus-style Apple WWDC keynote. Almost every year, there are rumors that Apple's product line, especially Macs, will be updated extensively.
This year was the first time in a long time that something like this happened. But those announcements were just a prelude to the Apple Vision Pro announcement.
Shortly after the consumer-focused 15-inch MacBook Air and the "pro"-focused Mac Studio, Apple announced the end of its move to Apple Silicon in the new Mac Pro.
Here's a summary of what we got from the Apple Silicon Mac Pro:
M2 Ultra processor promises to be fast and well-cooled
64 GB RAM soldered up, up to 192 GB
A vague promise is the equivalent of 7 Afterburner cards on a chip
1TB SSD space, up to 8TB available via Apple
Six full-length PCI-E Gen 4 slots
Wi-Fi 6E
more expensive wheels
Quieter than the Intel version
And all this for $6999, which is $1000 more than the Intel version.
Upgradable RAM has been discontinued this year. Also, the maximum amount of RAM is less. But don't worry. Apple says that if you set it to the maximum value when you buy it, it should be enough to run large language models.
It also removes the ability to support Radeon PCI-E video cards, a mysterious removal. Apple doesn't even have an MPX module for it, and even the slot for it is gone.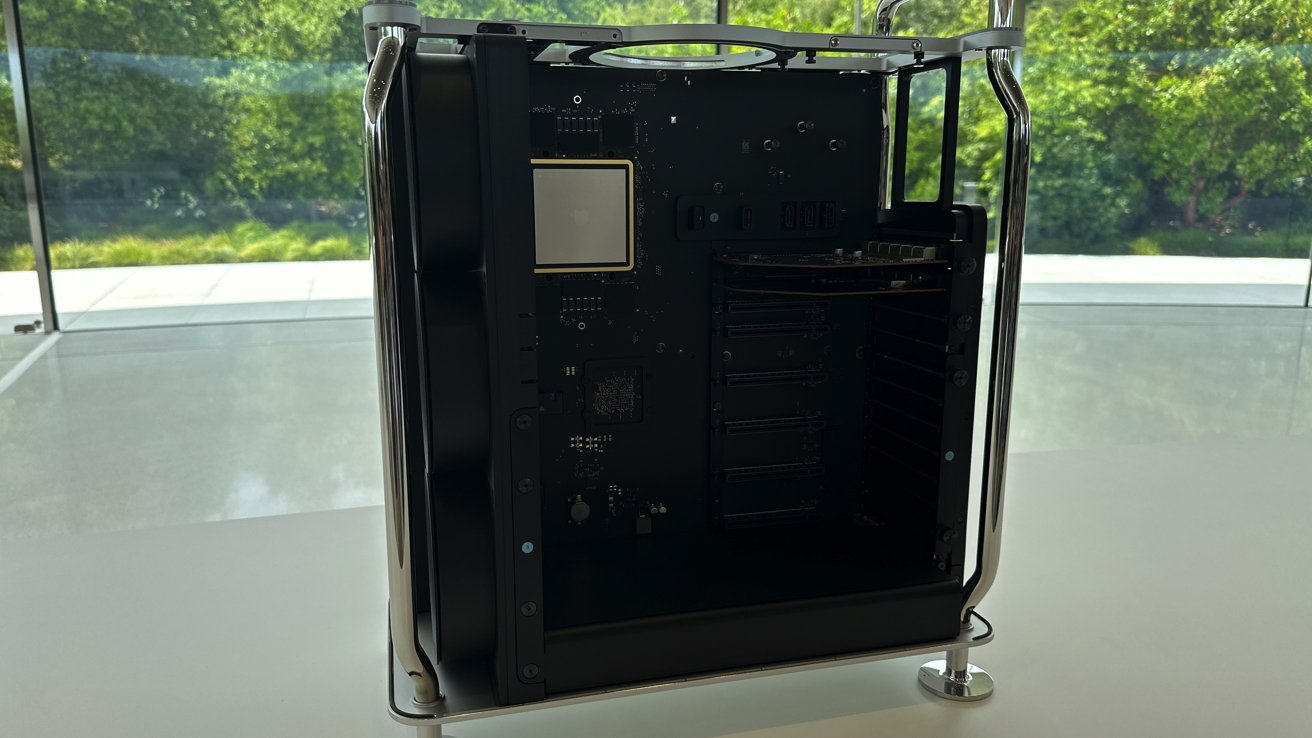 No MPX, all PCI-E Gen 4
As it stands, the core Apple Silicon Mac Pro's M2 Ultra processor delivers around 185,000 in Geekbench 6, based on extrapolations from Apple's chip tech specs, but with better cooling. In other words, it is located around AMD Radeon Pro W6800X.
And that and the half-price Mac Studio just give you just that. There is no way to improve Metal's performance using addons.
It's also much lower than the Radeon RX 6900XT available at retail. This achieves about 230,000 on Geekbench 6. Owners of Intel Mac Pro towers can fit four of these cards with room to spare in the slower PCI-E slots.
The beefed up Mac Pro appears to perform around 215,000 on Geekbench's Metal test. It's still smaller than the Radeon PCI-E card in the Intel Mac Pro's PCI-E 3.0 slot.
The reason is complicated. It's not just a driver issue. Apple has decided that under no circumstances should there be any way for Apple Silicon processors to communicate with external graphics cards.
It seems unlikely they will remodel this.
professional opinion
I've been talking to several industry acquaintances over the past few days. No one is really impressed.
Most of the music industry folks I've spoken to have stuck with the 2019 Mac Pros, with a few veterans clinging to the 5,1 Mac Pro tower for a few more years. An old Mac Pro used in the studio and on the go doesn't connect to the internet, so security he's not too concerned about the lack of updates.
DoD folks who used to use Mac Pros now mostly use Mac Studios with a PCI-E breakout box or two. They have practical hot and cold water sources for their research and projects, but they have no intention of migrating.
In any case, the lack of PCI-E GPU support is the new Mac Pro's lack of PCI-E GPU support for these folks who are spending big bucks to fix the problem if they can't turn it off due to lack of upgradeable RAM. Fatal factor. I got there.
I don't have a video card, but I do have PCI-E
As I said before, it would be a shame if you had one of these MPX modules to increase your storage. You're out of luck.
PCI-E cards are still required for media production. There are capture cards for different audio or video sources, and cards for more storage, more USB, etc.
The Intel Mac pro is used by music producers and I've seen it backstage at all kinds of shows. Every aspect of science needs it. Unless, obviously, it's a fashion statement, think about the massive computational load rather than e-mailing and surfing as your primary user.
But today there are better options. I'm putting together a review of the Sonnet rackmount for Mac Studio, and it's strangely prescient. At around $1100, the xMac Studio Pro is comparable to the Mac Studio, which retails for $1999 or $3499, depending on the processor, and can also take PCI-E cards.
There's also Sonnet's DuoModo system, which we reviewed earlier. This can provide 3 PCI-E cards in his one enclosure. Alternatively, the older Thunderbolt eGPU enclosures, which Apple said were the future in 2016, are up to 8x faster in x16 Gen 4 PCI-E slots, though capped at 32 Gbit/s, these cards' Both can be treated similarly.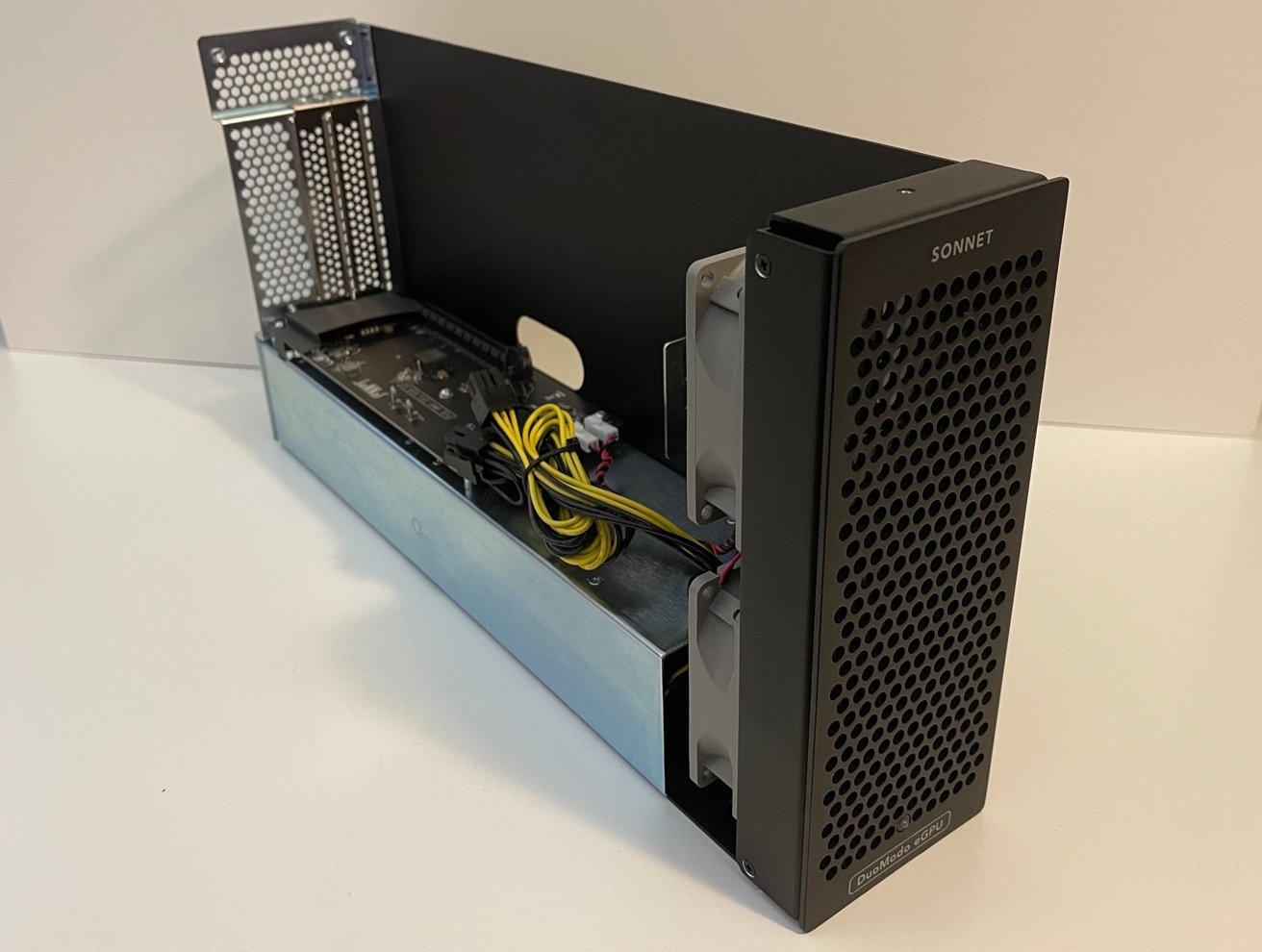 DuoModo eGPU modules are easily compatible with almost any PCI-E card on the market.
And all of this is still well below the core Mac Pro price, even with the M2 Ultra Mac Studio.
Apple Silicon is great, but the Mac Pro with it isn't
Apple Silicon has been great for Apple and Mac devotees. It has industry-leading compute performance in terms of power consumption, and does it all quietly and in a very cool package. No more rapping about your MacBook Pro.
Long-lost low-end pricing is back. It also broke the shackles promised by Intel for years that led to engineering choices that didn't adequately address heat when chips were delivered that didn't meet this lofty goal.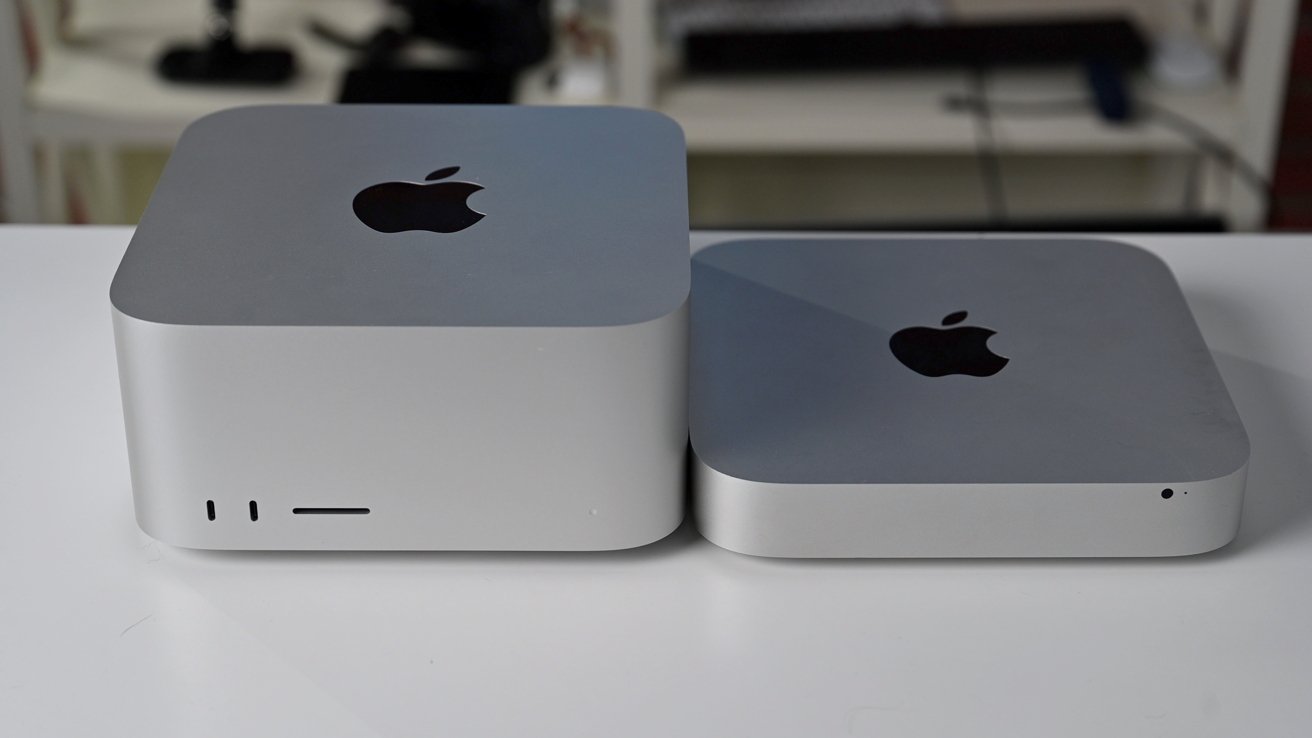 Mac Studio next to Mac mini
The Mac Studio and M2 Pro Mac mini are great machines. They are powerful and affordable for the market segment that needs them. The 14-inch and 16-inch MacBook Pros are among the best portable Macs ever made, but I'll admit that to this day the PowerBook 540c sucks.
The Apple Silicon Mac Pro doesn't reach these lofty heights. It's not close
Literally this is a computing appliance. A ready-to-use computer is fine for most Mac users, but it's perfectly fine for this computer's target market.
Apple once had a Pro-centric team they consulted for the iMac Pro, and they used that team again for the 2019 Mac Pro reboot. Based on Apple's announcement, I don't think there was any discussion about a new team. released.
Perhaps that focus group will meet for the M3 or M4 Ultra Mac Pro. But I'm not holding my breath.
Read on AppleInsider